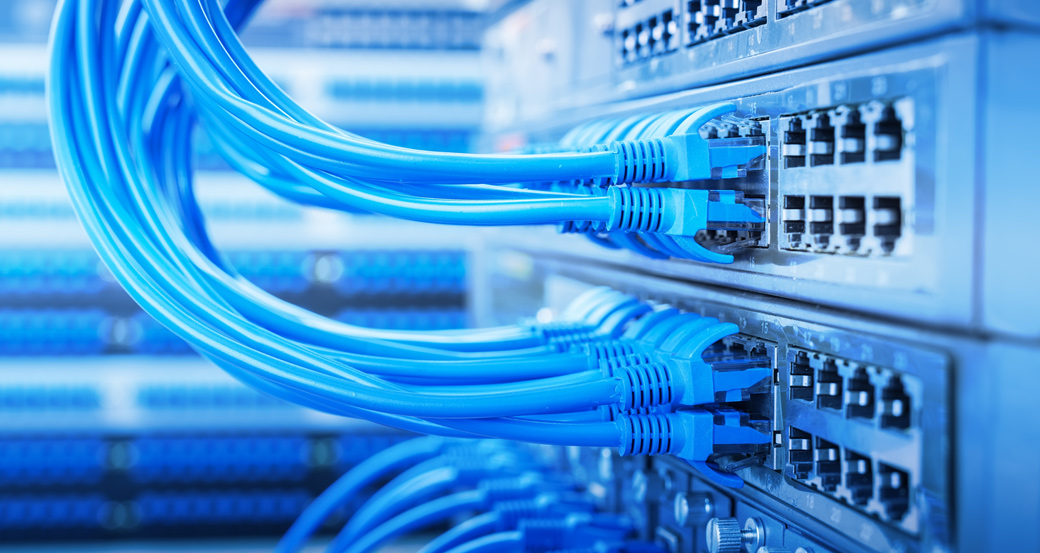 Networking & Cabling Infrastructures
Commercial Networking
Why are there never enough phone or data points in the workplace? It all comes down to careful planning and thinking ahead when designing your office. We can help you work out exactly what you need now, and install an efficient cabling infrastructure that allows for growth and changing needs as time goes on.
Structured cabling systems we can install include the following:
Category 5e
Category 6
Category 6A
Designated telephone cabling systems and backbone links installed
Comms or Server cabinet installation
Comms or Server Cabinets stripped down, tidied and re-built
Domestic Networking
With the ever growing smart home industry mainly using network-based devices, the needs for installing home networks is increasing. We can help you link your router to your office, bedrooms, gaming consoles, printers with cables that can support speeds from 1 Gigabit per second up to 10 Gigabits per second. Properly installed cabling is much faster, reliable and secure than wireless. We offer solutions from just a few cables to complete houses where required and provide design advice. This can be part of a refurbishment project or to add connectivity to any part of your home.
We can provide a one-stop solution for your cabling, networking, and multimedia distribution requirements:
Home network cabling for Ethernet over Cat 5e and 6 and beyond
HDMI and AV Distribution systems
Multi-room Audio and Speaker wiring
Connections for smart TV's
Connections for You View and Sky Boxes as well as any networkable devices
Network cabling for Smart Lights and Blinds
Coaxial cabling for satellite and TV distribution
CCTV Systems supported
Intruder alarm integration
Gate automation integration including network intercom systems
Areas we serve
We are delighted to be able to offer our services to customers in the South East  London, Surrey, Sussex and Kent this includes but is not limited to: Ashford, Brighton and Hove, Broadstairs, Canterbury, Crawley, Dartford, Dover, Farnham, Hastings, Maidstone, Reigate, Sevenoaks, South East London and the surrounding towns and villages, Tonbridge, Woking.
Commercial Finance Solution
Patron Security Limited are pleased to be able to offer a quick and simple way of purchasing your new security equipment, through our preferred leasing partner, Focus Leasing.
Established in 1994, Focus can offer you a finance solution to suit your needs for any equipment for £1000.00 plus VAT or more.  They cover the whole of the UK and have facilities to suit all of our customers, from start-up ventures to PLCs.
Improve Cashflow – Your new security equipment can be delivered and operational without the need for capital expenditure.  Have what you need today with no cash outlay.
Retain Credit Lines – Keep existing banking arrangements, credit lines and cash free for uses that are more appropriate.  Our finance facilities cannot be withdrawn like overdraft facilities.  Use cash and bank funding for working capital to maintain a healthy business.
Simplify Budgeting – Payments are fixed throughout the term of the agreement enabling accurate and simple budgeting and forecasting.  Bank facilities are generally related to interest rates, which is fine when they are low but can cripple cash flow when they increase.
Any leasing figures quoted are subject to credit approval for business users trading for over 3 years only.  We can also offer finance to start up and new businesses – ask us for figures.
If you wish to lease your new security equipment, apply today in one of the following ways and Focus Leasing will arrange a facility promptly for you.
1. Email – sales@focus-leasing.co.uk
2. Call Focus Leasing on 01794 525930
Apply directly for finance here
Testimonials
"Customer service was very professional, informative, polite & honest. The work was carried out well and all areas left clean and tidy at the end of each day. Excellent service on all levels from start to finish."
Cecil Court Management Co., Ashford

.
"You understood our challenges and we are delighted with the whole approach of your team, from initial meetings through to final installation. Your excellent attention to detail made all the difference and you have been a pleasure to work with."
Mr. Jeanes, Partner at Evegate Business Park
"We wish to thank you for the professional manner in which the Alarm and CCTV installations have been carried out."
Mr & Mrs S
"Patron Security Ltd has provided us with a well thought through security solution."
Mr Noble of CN Automotive
Gallery
Have a look at some of our recent projects.
Patron Security Limited company registration number: 7429504, registered in England and Wales, VAT number: 103 6057 54 Registered office: (Patron Security Ltd, 23 Park Barn, Evegate Business Park, Station Road, Ashford, Kent, TN25 6SX)